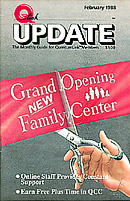 February 1988:This issue featured an article on the new online Family Center.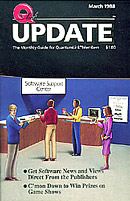 March 1988: This issue featured articles on the Software Support Center and online game shows.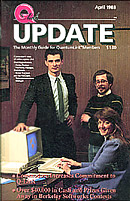 April 1988: This 40-page issue sported the first live photograph taken at Commodore's HQ.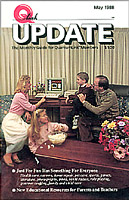 May 1988: This 44-page issue included an article on the Just for Fun section & a 14-page calendar.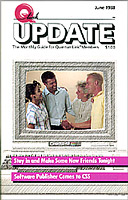 June 1988: This issue focused on online relationships & introduced Broderbund software support.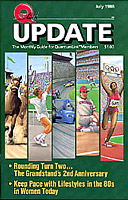 July 1988: This issue contained articles on the 2nd Anniversary of

Grandstand & issues of the 80s.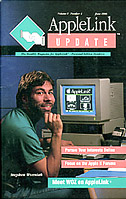 June 1988: The first issue of AppleLink Update, covering the related service for Apple users.
The July 1988 issue of the Update was the last one I had the pleasure to work on. As mentioned earlier, the addition of a product for Apple and the growth of the service in general merited the hiring of a full fledged ad agency… in the opinion of the brass at Q-Link.